Tire Services
Tires are one of the most important components of your vehicle. They are the part that actually touches the road surface. They endure a lot of harsh climates: hot, warm, cold, icy, wet, snowy, bumpy, and our favorites rocky and muddy.
Tire Mounting
Tire Inspection
Tire Balancing
Tire Pressure Monitoring Program
When purchasing a set of tires from us we include free initial mount and balancing and free tire repairs and rotation for the life of the tires.
Is this light on?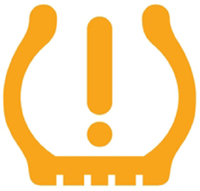 We have the capability of diagnosing the reason why it is on. Our computer systems can read trouble codes and scan sensors to fix the problem.